NZ RAISINGS
Longwood Dainty - Jim Robbie, by Walter Jack
I had never realised that one of New Zealand's most popular small dahlias, 'Longwood Dainty' was bred in this country. It was while I was on the coach trip during the South Island Nationals in Southland that our guide, Walter Jack, pointed out the Longwood Ranges and that it was "Longwood Dainty country'. That spurred my interest in finding out more about the beginnings of this miniature waterlily. I telephoned the Jacks and received the following article. Editor
Jim along with his wife Ann lived in Riverton, Southland. During his retirement his great passion was gardening. He had a large section of great interest. Starting at the street front was his collection of tiny rock plants, the smaller the better. A native corner where six or seven native shrubs had been grown and pruned in such a way to give a canopy of shade, a path down through this area gave the impression of being deep in native forest. It was quite small but full of native ferns and orchids in particular. Then his small hothouse which was always full of cucumbers and tomatoes. Behind a hedge was his dahlia patch where Jim loved growing the giants, the bigger the better. A very large vegetable garden with small fruits and in a gap in a hedge that led into a neighbour's section where Jim grew his seedlings, plus surplus dahlias and more vegetables. Jim also had a large aviary where he bred many exotic birds, another shed featured several exotic rabbits and guinea pigs.
Jim had been growing dahlias since 1937 and everywhere he went his dahlias went too. Being a dairy factory manager meant Jim shifted around, Clandeboye near Timaru, Wrights Bush in Southland were two factories Jim managed and where dahlias featured in the factory house gardens. While enjoying the giants, in his latter years, he became very interested in novelty types, orchids, liliput, collerettes and anemones in particular. From seed grown from these he started getting some interesting forms.
On a visit in 1986 he was showing me his seedlings, right at the back was a novelty that really caught my eye. Jim also thought it was one "he may keep'. Two or three days later Jim arrived over with his dahlia. He had dug it out, put it in a pot and dropped it over for me to look after "in case he lost it". The date for this digging was the first week in March. I kept my fingers crossed that the very small immature tubers would keep. Yes, 'Longwood Dainty' did survive and went on to win trial garden awards. In 1989 it won the prestigious American Derrill Hart Medal.
Another of Jim's raisings was 'Longwood Sparkle', a very much underated purple miniature decorative that also won trial garden awards. Jim's prefix 'Longwood' is named after a well known range of forested hills that start at Riverton.
After Jim's death on March 25, 2001 aged 85, I dug three first year seedlings. One of these was to go on and gain a trial garden Award of Merit. It was an unusual novelty, a tall bushy growing cream and magenta orchid colllerette. One Jim would certainly have enjoyed. It was named by his family as 'Jim's Passion'.
Reproduced from the NDSNZ Spring Bulletin 2006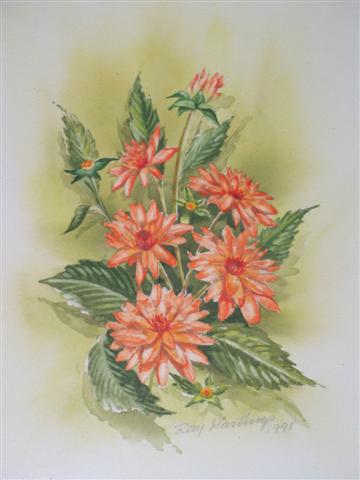 Painting of Longwood Dainty by the Society's Patron Ray Hastings